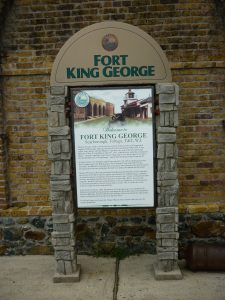 Fort King George
A nice excursion destination is the Fort King George built in 1777 in the eastern part of the island capital Scarborough. The building is a witness of the changing history of the island. After its construction, it was occupied by French occupying forces in 1781 and renamed "Fort Castries". Already in 1814 it went again to the English, who extended the area 1856 by a prison and a hospital. Further expansion took place with the construction of a water reservoir (1926), a lighthouse (1958) and a park (1965). Above, one of the buildings houses the National Museum of Tobago.
Beside the historical complex, the fort offers an excellent view point to Scarborough and the sea. The unobstructed view, e.g. of the Dwight York Stadium and the harbour with the large ferries and cruise ships arriving and departing, invites you to linger in comfort. Interesting is also the fact that the hospital of the fort was actually actively used until a few years ago. Scarborough now has a modern medical centre.
We have made our visit with Katharina Dumas from TobagoTours as part of an excursion through the south of the Island.