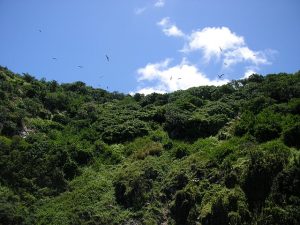 Main Ridge Forest Reserve I Rainforest on Tobago
The nature reserve of the Main Ridge Rainforest forms the backbone of the volcanic mountain range of Tobago. Beginning at the north-east tip, it extends over 2/3 of the length of the island.
It is the oldest nature reserve in the world and was already protected by parliament in 1776, shortly after it was taken over by the British occupying forces. Much of the forest is completely left to its own devices, with hurricanes in 1790, 1847, 1963 and 1974 causing severe damage. In an admirable way it can be understood how nature has regulated these damages over time. The mountainous forest reaches a maximum height of 580 meters.
It is strongly recommended to undertake a guided walk through the forest without neglecting insect protection. However, dangerous or poisonous animals are not to be found there. The road from Roxborough to Bloody Bay is worth a trip even if you are not planning a tour through the rainforest. The partly clear temperature differences to the coastal area provide for a varied vegetation.
The best signposted and easiest to find path in the reserve is the "Gilpin Trace". Access is from the road from Roxborough to Parlatuvier and is clearly marked by a large sign on the main road. In the high season some young guides vie for guests and try to stop vehicles. Even if this way of initiating a business seems to be very idiosyncratic – the men are not up to anything bad and will not continue with a clear "No". If you have not yet booked a guide before your arrival, you now have the opportunity to do so. The way into the rain forest should not be started without experienced company. When booking a guide, pay attention to the certification of the TTTIC.
The best way to explore the rainforest is the Gilpin Trace. This trail starts in the mountains and leads past a small waterfall to Bloody Bay. It is a slightly longer hike, so it makes sense to arrange a pick-up at Bloody Bay.