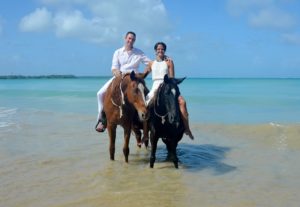 Getting Married on Tobago in the Caribbean
From our own experience we can say: Getting married on Tobago is relaxed and dreamlike! It is the perfect opportunity to combine an individual and exceptional wedding ceremony with honeymoon, adventure and exoticism.
Wedding with horses on the beach
We have fulfilled our wish to marry horses on the beach of Buccoo on Tobago. In wonderful weather and in a paradisiacal ambience, we have made a covenant for life.
With a wedding planner to the dream wedding in the Caribbean
With an experienced wedding planner on site, the step into marriage can be carried out in a dreamlike ambience. Whether it's dealing with the authorities, photography or other organization – the team of Tobagoweddings or other wedding planners ensures the success. If you are interested, it is best to ask the host of your accommodation directly for recommendations. As a rule, there are long-standing and trusting cooperations that guarantee a perfect process.
An important and positive information: A wedding on Tobago is legally valid! The German Embassy in Port of Spain certifies the marriage after the ceremony. The marriage is thus recognised in Germany, so that the marriage certificate only has to be registered with the local registry office.
The registration of the wedding ceremony on Tobago is very easy and is supported by the wedding planner. With regard to the process, the general conditions and the required documents, we are happy to be at your disposal on the basis of our experience.
What to consider at a wedding in Tobago
Stay
Bride and groom must be at Trinidad & Tobago at least three days before the wedding. It should be noted that the day of arrival is not counted. The special marriage permit can be applied for from the fourth day and is valid for six months.
Legitimation
Both parties must prove their identity with a passport (valid for at least six months after departure), the ticket of arrival and a proof of accommodation on Tobago. Note that an identity card is not sufficient.
Divorced / Widowed
Divorcees must present an official and stamped divorce decree. Widowers and widows must carry the death certificate of the deceased former spouse.
Age restrictions
Persons under the age of 18 require a legally certified consent signed by their legal guardian.
Name change
If you have already changed your surname or have returned to your birth name due to a divorce, a lawyer's confirmation is required.
Witnesses
Two witnesses are needed to accompany the ceremony. If you do not take any friends with you to Tobago, witnesses can usually also be provided on site, e.g. by hotels or a wedding planner.
Ceremony – on the beach, on horses in the rainforest – (almost) nothing is impossible
The wedding ceremony can take place at almost any place on the island, as long as it has been agreed with the responsible priest or official. The time of the wedding ceremony can be between 6 and 18 o'clock. It should be noted that purely civil weddings can only take place at the Registrar's Office in Scarborough.
Obtaining information in advance for your own planning
Of course, the wedding can also be planned and carried out "on your own". The legal process is not particularly cumbersome, but it is advisable to deal intensively with this topic in advance. A good preparation saves disappointments – after all, you don't want to celebrate less than the most beautiful day of your life.
It is advisable to briefly inform the embassy in advance by telephone (T. 001-868-628-1630) and to notify it of the sending of the documents. After the wedding ceremony you send the marriage certificate including the fees to be paid to the embassy (e.g. German Embassy 19 St. Clair Avenue, Port of Spain, Trinidad and Tobago) http://www.port-of-spain.diplo.de/ The certified marriage certificate will be sent to your home by courier.
Official marriage license (Marriage Licence)
This point is particularly relevant if you do not have a wedding planner. In order to marry on Tobago, you need an official marriage permit (300TT$). Please note that it can take up to one week to issue the documents. When applying for a marriage permit, you must declare on oath that you are unmarried and legally marriageable.
After the ceremony
As a rule, you will receive your marriage certificate within 14 days. If you want your marriage to be legally recognised in Germany, you will need an Apostille, which can take up to six weeks to issue (see above). You will receive two duplicates of the original kept at the registry office. The costs are about 4 EUR per copy.
Further information can be found here:
Registrar House, 72-74 South Quay, Port of Spain, (001-868) 623-7163 / 9392
Warden's Office, Inland Revenue Building, Sangster's Hill, Scarborough (001-868) 639-241